Street Sweeping Services from Texas Johns
Construction zones may bring in the buildings of tomorrow, but also kick out debris and dirt into the surrounding streets.
Construction site debris leaves a community looking unclean and has other negative consequences.
At Texas Johns, cleanliness is our job. If you want to do your part, take advantage of our street sweeping services for construction sites!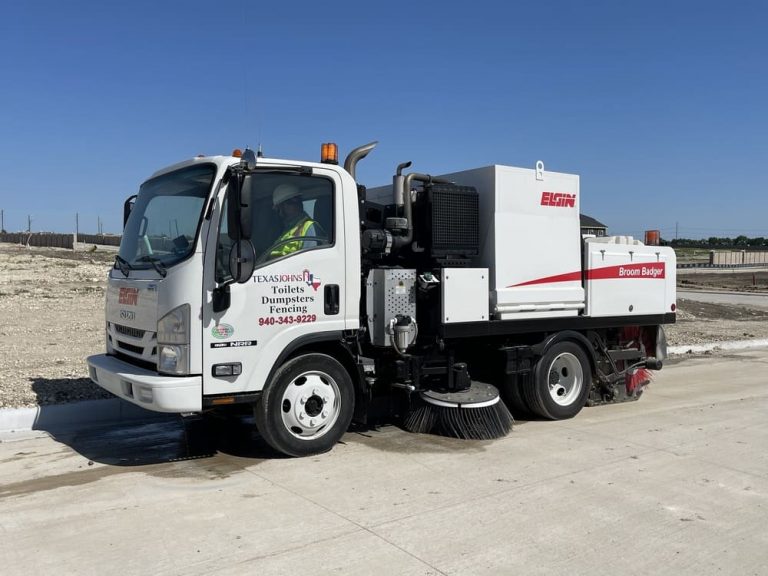 Street Sweeping Keeps Your Construction Zone Cleaner
No matter how mindful you are, your construction site is going to kick up dust. While that issue isn't avoidable, you can use street sweeping to mitigate dirt, mud, and debris in the streets.
Our street sweeper can come to your location, sweep away, and collect dirt from around your construction zone.
Street sweeping doesn't just keep your site's surroundings clean; it keeps your streets safer. Temporary fencing isn't always enough to protect a community from construction debris.
Texas John's street sweeping services clear out your streets and prevent pedestrian accidents. Public safety should always be a main concern. So, let Texas Johns remove obstructions from around your site, today!
Preserve the Surrounding Environment
Street sweeping is beneficial for subdivisions where companies are building new homes. These streets can get messy. Although street sweeping seems like a short-term solution, leaving dust and debris around creates long-term problems.
Street sweeping helps:
Preserve the pavement in a community
Remove harmful metals from the environment
Prevent debris from moving into natural habitats
We're There When You Need Us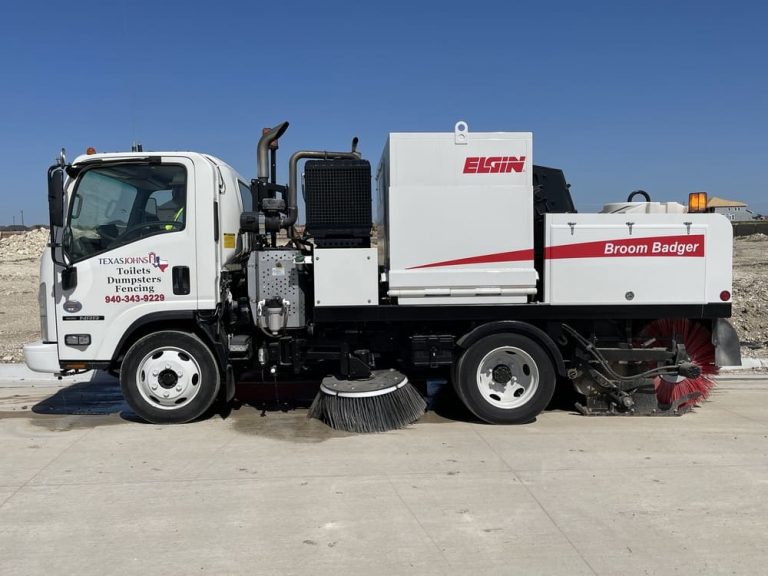 Texas Johns always makes itself available to our customers. Whenever you need street sweeping at your construction site, we're ready to help.
Our availability depends on when you request services and your jurisdiction's requirements.
Your city or subdivision may have stipulations about when street sweeping is acceptable, and we respect those regulations.
We are flexible with our hours and are ready to help you and yours and our earliest convenience.
If you request street sweeping services, we have a 2-hour minimum window for our services. Beyond that minimum time limit, we are eager to give you the best rates for your sweeping services.
Your One-Stop Shop for Construction Site Cleanliness
Texas Johns is proud to be your go-to provider for construction site sanitation. Our street sweeping services elevate the current construction services we offer.
We are always available to provide your site with:
Comfortable, clean portable restrooms or restroom trailers
Roll-off dumpsters
Temporary fencing
Water tank rentals, and more!
We help you keep a cleaner site that leads to fantastic results. Serving Dallas, Fort Worth, Austin, Houston, and San Antonio areas.
Sweep Your Debris Away Today, With Texas Johns
Texas Johns helps you make your construction site a cleaner spot in your community. Reach out to us today to schedule your first street sweeping service.
Whether you need a cleaner street or any other sanitation service we provide, Texas Johns has your back!